Kami plays the baǧlama for his family.
On Saturday night Kami Kartun's family is sitting on their second-story balcony. A long table contains a spread of sliced watermelon, peaches and honeydew melon. His mother, Kuhar, serves coffee in white cups with orange flowers. The night is peaceful and quiet, interrupted only by the occasional croak of a frog.
Out of the darkness of the unlit street, the put-put-put of Kami's vehicle, a hybrid of a tractor and a motorcycle called a "tırbiratör," breaks the serenity. The 15-year-old, sweaty from a soccer match in the church courtyard, races up the steps. He makes his way to the balcony then drops into a chair next to his twin sister, Melina. The more fastidious of the two, she wrinkles her nose in disgust at his appearance.
"We had to jump the fence to play at the church," he explains while helping himself to fruit.
Melina responds with a sarcastic comment that sets off bickering between the two twins, so opposite in character and appearance. Melina is dwarfed by Kami's presence. He is tall and barrel-chested, a large boy just growing into his hands and feet. His personality is even bigger.
"You're adopted," Kami tells his sister. "We picked you up from the garbage."
"Oh, yeah?" she responds. "Do I look like I'm taking you seriously?"
Kami lets out an irritated sigh and turns away to gossip with his parents about the poor playing of some of the other boys. He imitates their comments during the game and mimes their whiffing the ball, almost falling out of his chair. Kami is, at heart, an entertainer.
"He's very active," Melina explains.
Kami is a doer, not a studier, he admits. He attends a vocational school in Samandaǧ, and he has to pick three areas to specialize in; based on his grades, his professors will choose one subject on which he will concentrate.
"I just want to do something that I'm able to do," he says.
His choices, he thinks, will be electronics, motors and computers. If none of those works out, however, Kami dreams of staying in the village and working his own land.
"If I can handle it, I'll be a farmer."
"Then you'll need to get a diploma from your dad," Melina says.
Kami elbows her in response.
"I don't like school," he says. "I don't really like to study."
Bedros, Melina and Kami's father, speaks up from the head of the table. He is a quiet man, one devoted to working in the orchards and brewing his own rakı, a Turkish anise-flavored liquor.
"He's in ninth grade," he says. "I haven't ever seen him read nine books."
The family breaks out into laughter, and Kami shrugs good-naturedly. He's trying to be better, he says, and he's been working on being more mature, more organized.
"I started recently making my bed. I mop the floor after a bath. I even did some housework. I helped wipe the windows with a cloth on my own initiative. I help my dad in the garden."
"I play with the motorcycle," Bedros adds.
"I get on my mom's nerves," Kuhar says.
"My mom frequently gets on my nerves," Kami answers.
Kuhar lets out a low laugh and asks for Kami to sing. She fetches his baǧlama, a guitar-like instrument, and sits back down to enjoy the music. Kami cradles it in his arms, his long fingers resting lightly on the frets. He sings with a soft, sweet voice. His father gazes at his son proudly, and his mother smiles at him, tears glistening in her brown eyes. She reaches out to dab the beads of sweat forming on his forehead. Kami closes his eyes and continues to sing, joining his tenor with the croaking of the frogs, the sound of the summer night.
Bu öykü Türkçe'ye de çevrilmiştir; okumak için tıklayınız.
Kami Kartun, 15.
Aras Kuş and Kami play in the village's irrigation canal.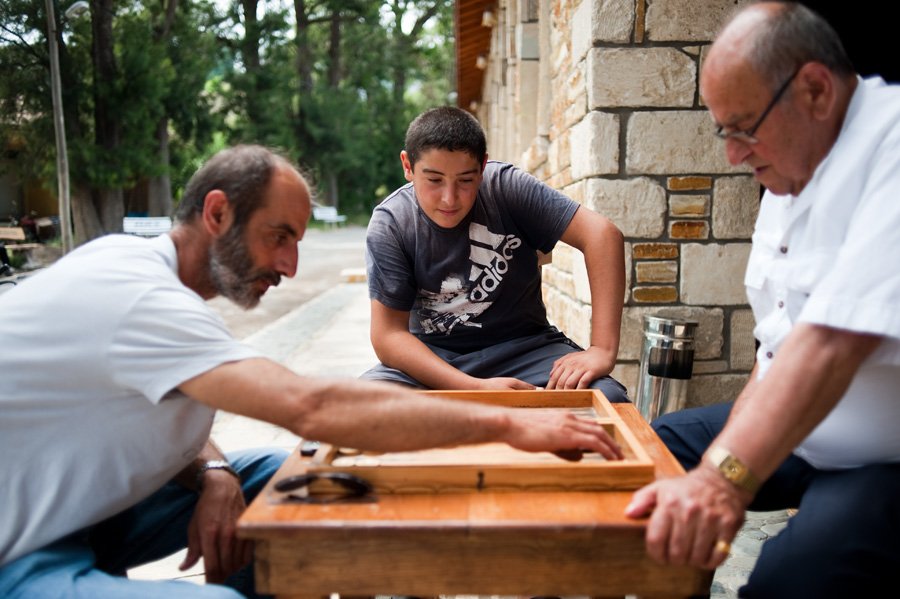 Kami watches Toros Silahlı and Panos Çapar play a fierce backgammon game. Kami admires and enjoys spending time with his Uncle Toros.