Avedis Demirci smells a red carnation. He has lost most of his sight and his ability to walk.
Avedis reclines on his patio.
Avedis Demirci is 99 years old, the oldest man in the village of Vakıflı. His body is failing him; thin and wrinkled, he lies on a hospital bed in his living room during a hot summer evening. His head and legs are propped on a mound of multicolored and striped pillows, and a red-and-white blanket is tucked around him. Despite his appearance, his frailty, his mind is strong.
He lives to tell stories, his reedy voice coming continuously from the bed. He tells of his time in the military, of romancing his wife, of his childhood, of his faith. He is full of anecdotes, each of them unique and special and in the languages – Turkish, Armenian, Arabic and French – he knows.
"After I told my commander that I don't speak Turkish, I speak Armenian, he told me to stand to one side. I was so nervous," he says, his hand shaking as he fingers the edge of his shirt. "Then he told me to command the older soldiers."
With a comic sigh of relief, Avedis explains that as a non-Muslim completing his mandatory military service in the 1940s, he was not assigned a weapon, and he couldn't communicate well. Luckily, he says, his commander was understanding.
"The commander was a fine man."
Avedis also served in the French army, and he can still recite the French poems he learned during his service. Following the chapters of his life devoted to the military, Avedis worked a variety of jobs, even that of a shepherd, a fitting position given his faith.
"Jesus reached down a hand to pick up a dying woman, and he brought her back to life," he says after shifting to stories of the New Testament.
Like many in Vakıflı, Avedis is pious. His faith has helped him negotiate joy and sadness; it is the steady, pulsing heartbeat in an almost century-long life. And with his wife of 70 years by his side, he tells one more story for the evening.
One man, fearing dying, set out on a journey to find the one place that didn't have Death, Avedis begins. As he was searching, people told him that a place without Death didn't exist. They said, "When death calls you, you will have to go."
The man responded, "No, when Death calls me, I won't go."
One day, however, the man found himself getting a shave at a barbershop. While there, he heard Death calling him. He got up to leave, and the barber protested, saying, "Where are you going? I'm only half finished with your shave!"
But the man said, "Death is calling me, I have to go."
And so he left.
"It doesn't matter whoever you are, Muslim or Christian," Avedis explains after taking a sip of water to wet a mouth dry from talking. "Muslims go this way, Christians go that way, but they end up in the same place, with one God. God is one, he is above."
Bu öykü Türkçe'ye de çevrilmiştir; okumak için tıklayınız.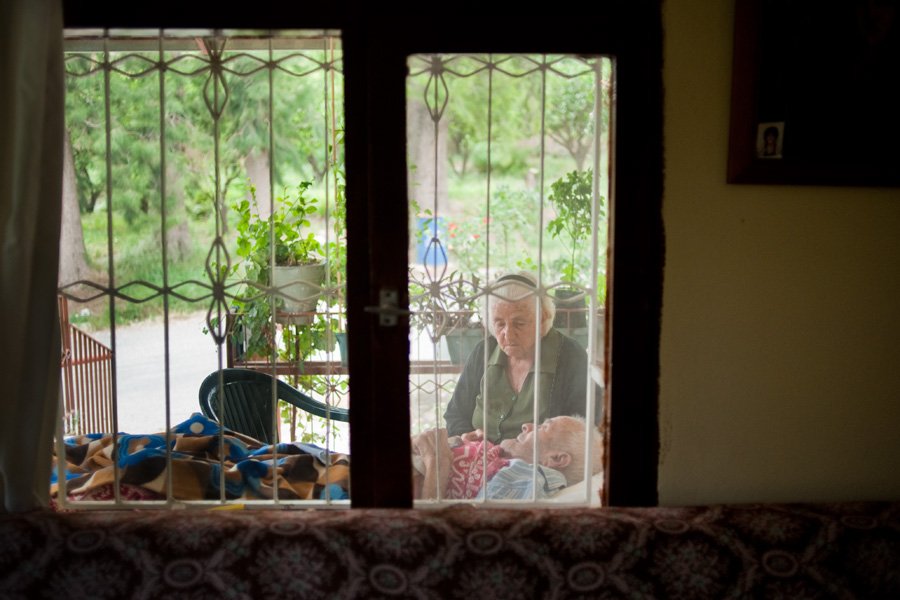 Avedis chats with his friend, Vartuhi Manca.