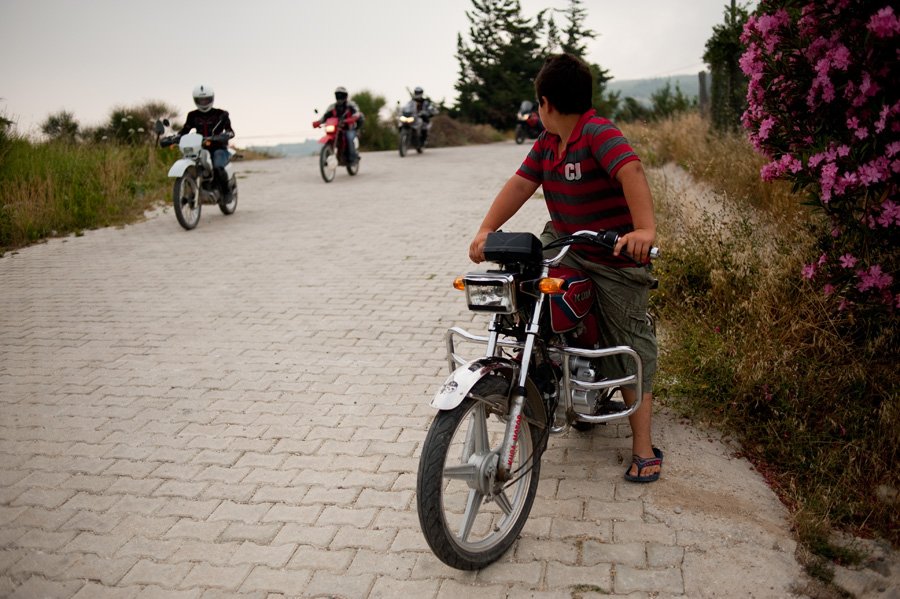 In between portrait shots, Vartan watches a group of bikers tour the area. "You should've seen those bikes," Vartan said to his dad, Misak.
Vartan poses for a portrait with his darbuka. His other instruments are on the couch behind him.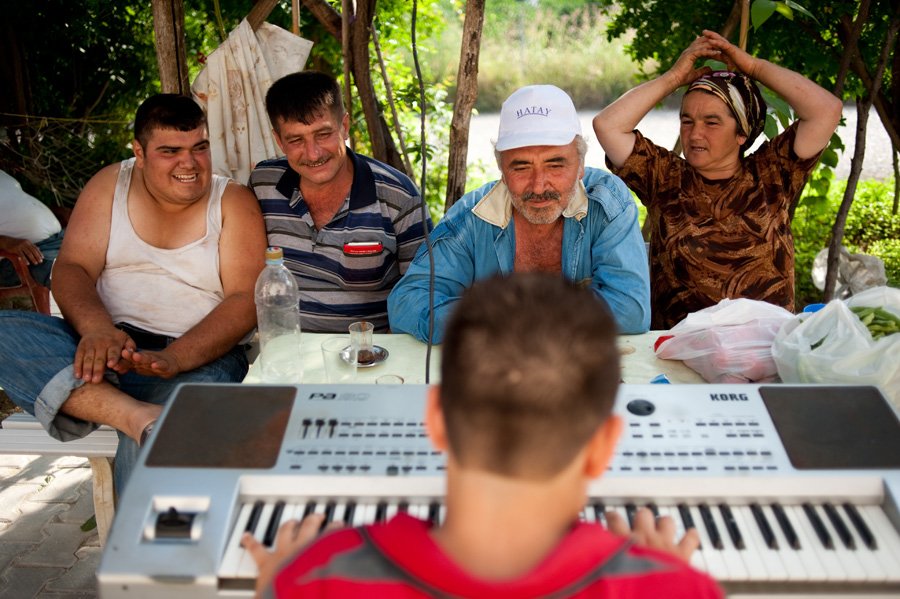 Vartan entertains his father, Misak (second from the left), and their Turkish guests from Hıdırbey with music.
Vartan Babek's life is laced with sound: the rumble of his motorbike engine, the tinkling tunes of his keyboard, the thrums and beats of his darbuka drum.
He rides his shiny red motorbike through the streets of Vakıflı, from the coffee house, where his mother, Margıret, is the manager, to his home, which is tucked behind a lush garden. He props his bike in the driveway and trots over to the covered patio where his keyboard, gray and used, sits on a rickety wooden table. When he turns it on – and turns it up – his music can be heard throughout the village.
"He's been interested in music since infancy," his mother says. "Even in bed he would be tapping out rhythms."
His fingers are agile and strong on the keyboard, and despite his being entirely self-taught, his technique is good. He tends to play with his right hand; his left controls the pitch bender. As music pours from the keyboard speakers, his grandmother, Azaduhi, sings along and claps her hands.
"It's like its own language: pieces of Arabic, Turkish and Armenian music," she says proudly, looking at her grandson.
Vartan, at the end of the song, switches to the darbuka. He picks up the small drum, slips it under one arm and on top of his legs and begins to drum and flick his fingers on the stretched-hide head. He plays the beat to "Hele Hele," a favorite of his grandmother. Seated next to him, Azaduhi delights in the song and resumes her clapping and singing. Hayrabet, Vartan's grandfather, shakes his head at them.
"[This song] is like a dog's tail," he remarks. "It can go on and on and on."
Grandson and grandmother make music together for an hour. Hayrabet watches them, his lips tipped up in amusement.
"I play the darbuka, too," he says. "Maybe that's where [Vartan] gets it from, though I could never play like he does."
At the end of "Hele Hele," Vartan puts down the drum and jumps off the couch, keen to go back out in the village, to ride his bike and meet up with friends.
He kicks up the stand then hops on, eager to zoom down the street and careen around corners. He's had one small accident, he says. He spent one morning lovingly washing his fancy toy, planning to show it off later. Without realizing that the tires were still wet, however, he mounted it and prepared to race around the corner, as he usually does. Instead of gripping the asphalt, the bike slipped and flew out from underneath him. Vartan landed hard on the street and suffered minor bumps and bruises. Still, the incident didn't prevent him from getting back on and riding into the distance.
"It's impossible to hold him back from things," his mother says. "He's stubborn and spoiled. He thinks he knows everything. I don't care if he gets mad [that I said so], I tell him all of this anyway."
Vartan, in typical 14-year-old boy fashion, merely rolls his eyes and zips away. His shiny bike reflects the bright glints of sunlight, and the growling of the engine echoes through the hills and valleys of Vakıflı.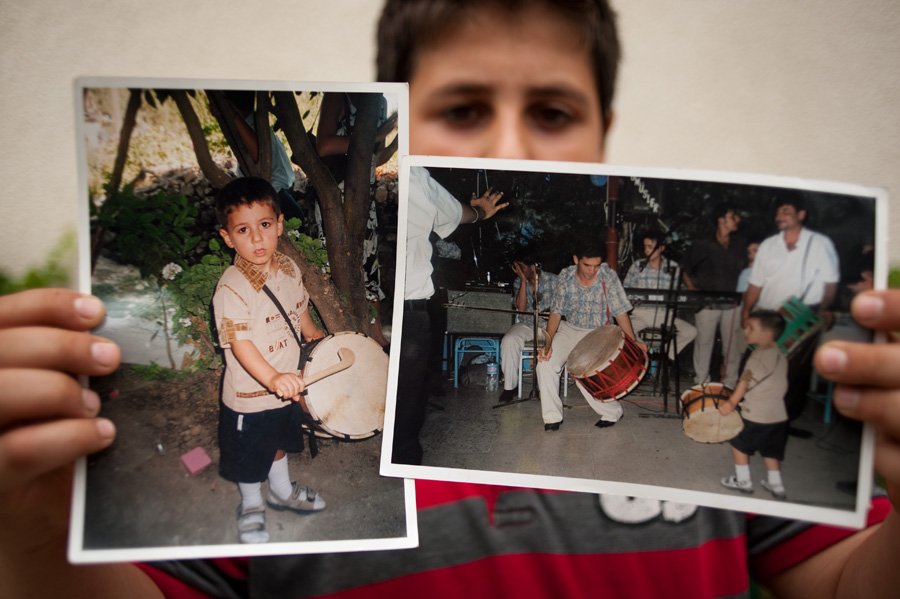 Vartan Babek holds up photographs of himself as a child playing the davul at a wedding.