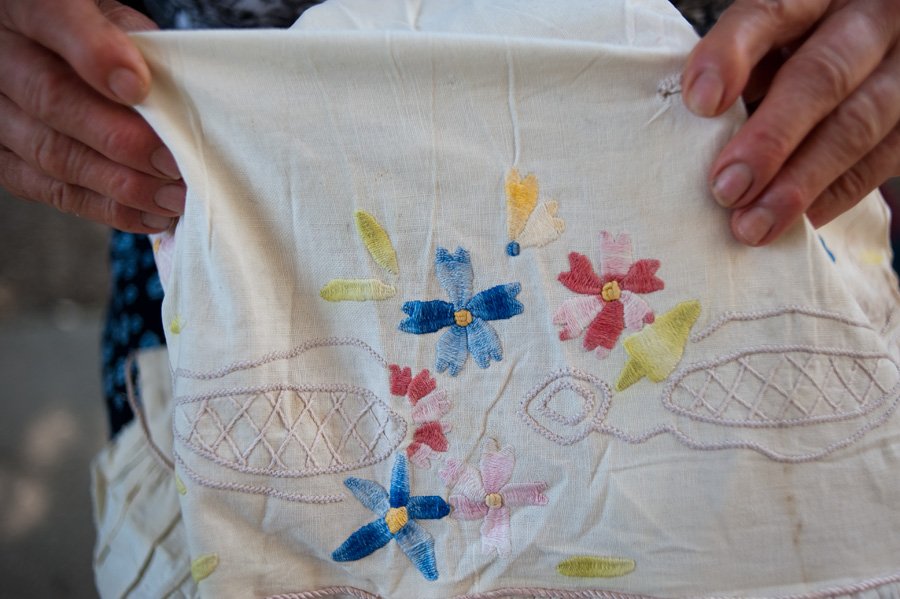 Şuşan shows a divan cover that was part of her dowry. She embroidered it herself.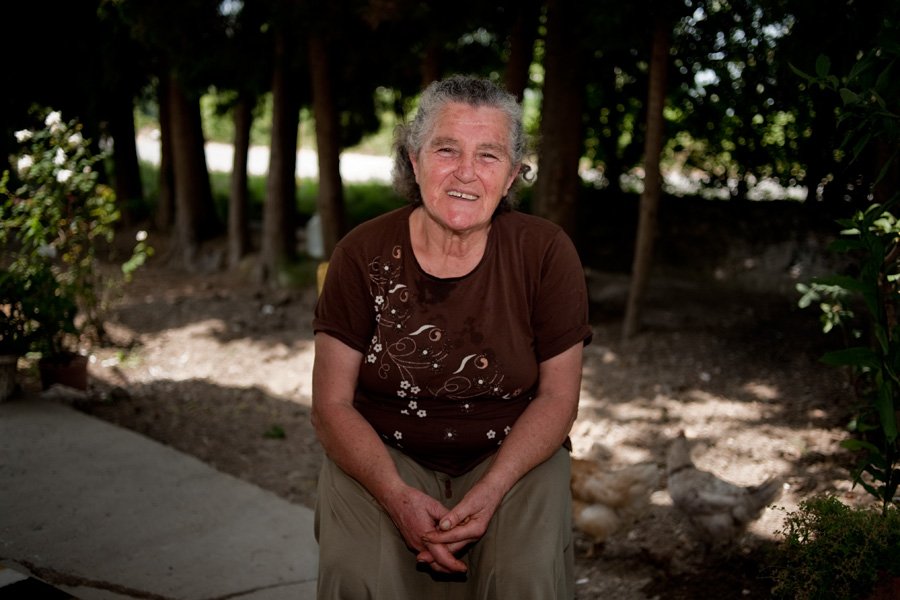 Şuşan Kartun, 76.
Şuşan Kartun, 76, sits on a rickety rainbow-colored wooden chair painted by one of her grandchildren. She holds a spool of white thread and plastic tatting shuttles. Her fingers, thick with age and sprinkled with liver spots, move slowly and surely, one stitch at a time. She leans down and squints to see the emerging pattern of the doily. When she straightens, she has a pleased smile on her face that reveals charmingly gapped teeth.
She shows off her tatting, pointing out the dainty and complex design. Then, with the deliberate movements of the aged, she stands up to retrieve other completed tatting projects and the embroidered divan cover from her dowry.
"We got married when I was 23," she says, running her fingers over the richly colored flowers and leaves of the cover.
She and her husband, Paramas, were engaged for six and a half years, shortly after Şuşan turned 17.
"My father's mother said that she wouldn't give me to him until he had completed his military service."
As a dutiful boyfriend, Paramas left Vakıflı to serve in the military for two years. One year after his return, the couple married.
"He was hard working and thrifty," she says, smiling proudly. "He bought our estate with his own money while we were engaged. Nothing came from his father."
Without any financial help, the young newlyweds worked in the orchards. It was back-breaking physical labor, but they persevered, day after day, saving what little they could earn. They bought animals here and there to supplement their income, and Şuşan began selling her needle work.
"If you work, God will give to you."
Almost 50 years, five children and nine grandchildren later, Şuşan is still working, continuing the legacy of her husband. Paramas died in 1993 at the age of 61.
The summer sun beats down on her stooped back, but Şuşan continues to pull the white thread through her fingers. She remarks, for the third time, that the weather is hot. She'll stay with her children in Istanbul during the winter, but for now she lives with one of her sons, Bedros, in the village that has been her home. It is the place where she was born, where she met and married her beloved husband, where she raised her children. It is, aside from her family, one of her great loves.
"Vakıflı is my homeland."

The gravestone of Paramas Kartun, Şuşan's late husband, in Vakıflı's cemetery. His portrait, which fell from the head of the stone, is temporarily placed at the bottom.