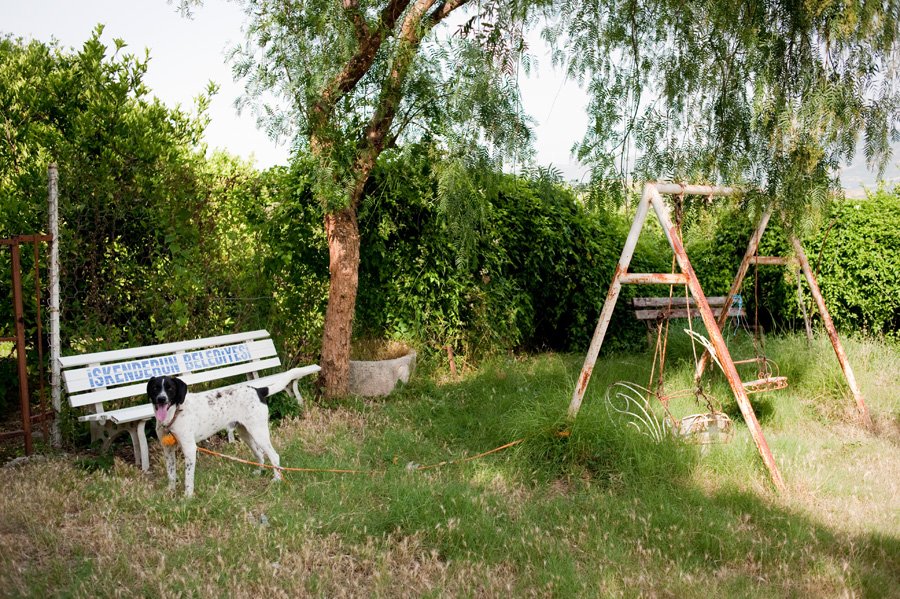 The Silahlı family's dog, Şirin, is tied to a swing set in the park across the street from the family home. There are few children in Vakıflı to play on the playground.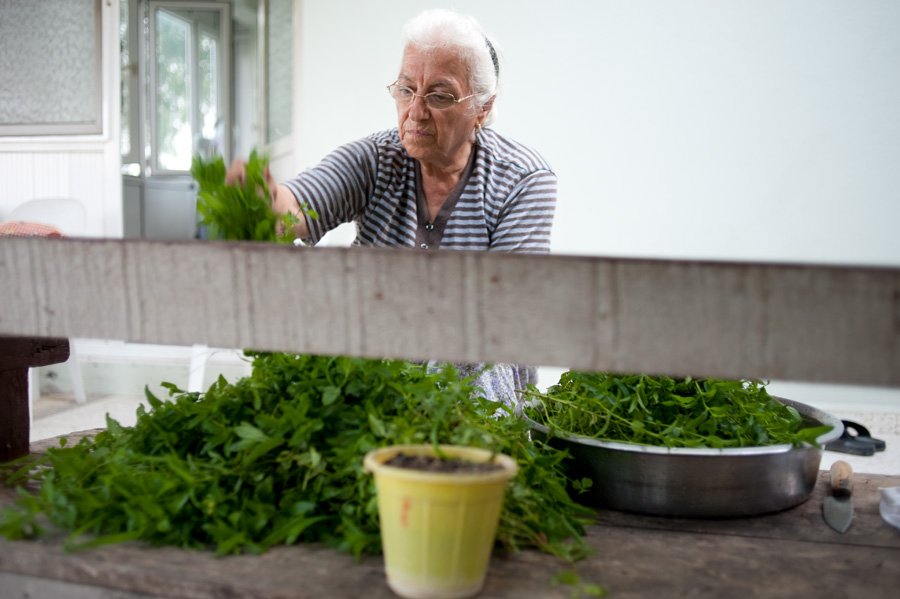 Siranuş Silahlı cleans fresh mint.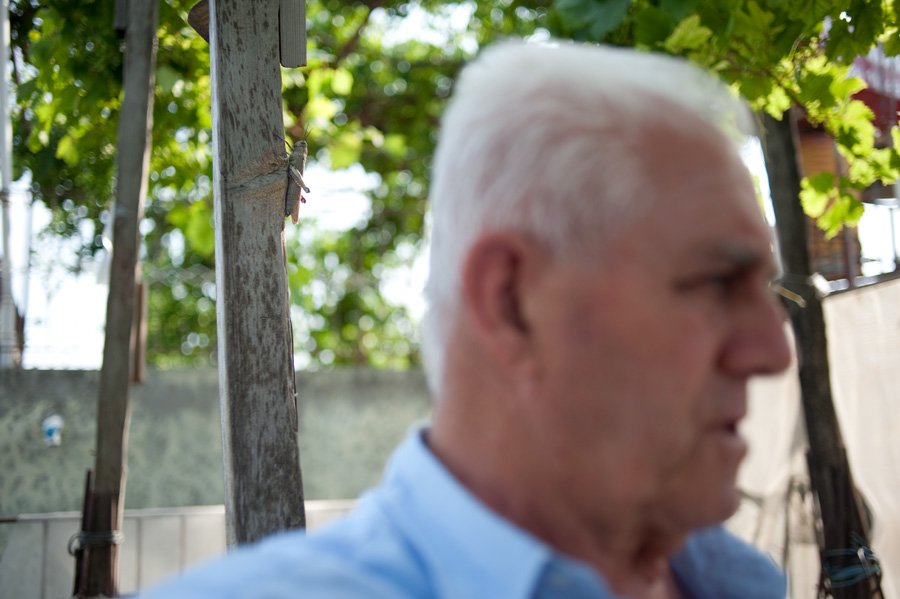 A grasshopper climbs the trellis behind Papken Silahlı.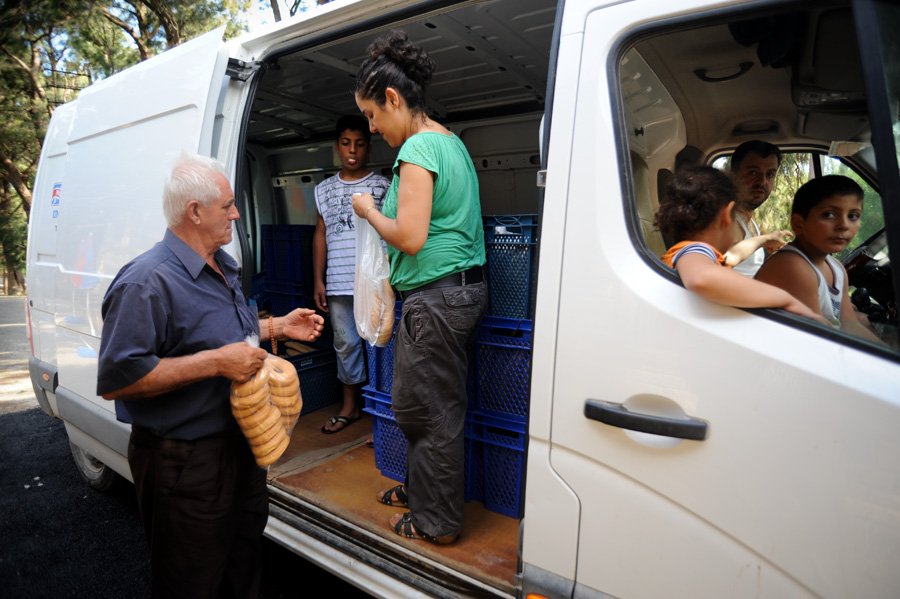 Papken buys pastries and bread from a bakery truck.
Papken and Siranuş Silahlı are a retired couple, happily living in a bright and roomy house off of Vakıflı's main street. Papken, 75, can usually be found in the local coffee house, chatting with friends and drinking cups of strong tea and coffee. Siranuş, 69, spends her days cooking, taking care of their home and looking after their hyper pup, Şirin. On this warm summer day, she is on the porch, surrounded by piles of peelings, bowls of raw onions and steaming potatoes and plates stacked high with glistening plums and apricots. A silver platter balancing on the porch railing holds chunks of her homemade cheese.
Short and spry, Siranuş bustles between the table and the house. If she's not gathering knives or plates to finish preparing lunch, she's answering the phone to talk to her daughter, who lives in Istanbul. She speaks in both Turkish and Armenian, alternating between the two languages to make her meaning clear.
Her daughter is calling about an upcoming trip to Istanbul, Siranuş explains. Although age has curved her back and her legs, she bounces with the excitement of going to visit her daughter and her grandchildren.
"The grandchildren insist that I come," she says, her smile wide with pleasure.
There's a lot to do to prepare; today is Thursday, and she'll leave Saturday. A large carpet lies in a heap on the porch floor, waiting to be shampooed. Onions are waiting to be sliced, börek to be made. Thankfully, Siranuş's husband, Papken, enjoys working in the kitchen with her and, she says, can handle the house when she's gone.
"He can take care of himself," she says with a laugh. "He knows how to cook."
And it seems he does. A few days later, with Siranuş safely in Istanbul and enjoying her grandchildren, Papken reclines in a plastic chair on the flat roof of his home. The faded and dusty carpet that once graced the porch floor is now spread out a few feet away. Papken and Siranuş's son, Toros, soaks it with a hose, while helper Kami Kartun soaps it.
It's sunny and nearly 110 degrees Fahrenheit. Papken's white short-sleeved button-down shirt is damp with sweat, but he seems comfortable. He stretches out long legs and crosses them at the ankle.
"We married in Vakıflı in 1960," he says, "but we moved to Istanbul in 1977."
After moving, Papken and Siranuş returned briefly to the village to sell their remaining properties – 2 houses in the Yezur neighborhood – in order to afford a home in Istanbul. They lived in a small city apartment for more than 20 years, raising their family.
The couple worked at Karagözyan, an exclusively Armenian orphanage and school, for 15 years. Siranuş was a cook, and Papken was a shopper, cleaner and handyman, a jack-of-all-trades.
"I loved working there," he says. "It was both very difficult and very easy."
He and his wife walked the 20 minutes to school every day and spent what time they could with the students. Siranuş, he says, was adored by the children, much like she is adored by her grandchildren. Papken, on the other hand, enjoyed the flexibility of his position.
"I liked it because it was free," he says. "It was very relaxing."
He could leave to take walks when he wanted to walk, he could work on whatever he felt needed to be worked on, he could eat when he felt like eating.
The couple stayed there, content, until they retired and returned to Vakıflı 13 years ago. They haven't escaped their professions much; Papken still works around the house, fixing and tinkering and repairing, and Siranuş is a beloved grandmotherly figure who nurtures through food.
Their home, it happens, is situated across the street from a ramshackle stone building that looks ready to collapse. It used to be his elementary school, Papken says. Just on the other side of the house sits an abandoned and overgrown playground, its white seesaw, slide and swing set rusted and warped from disuse and rain. For a couple who loves kids, who devoted their adult lives to caring for needy children while raising their own, they are surrounded by the ghostly memories of childhood in Vakıflı.
Papken (right) and Siranuş (middle) sit with their son, Toros (left), on their front porch. The family recently adopted a kitten.