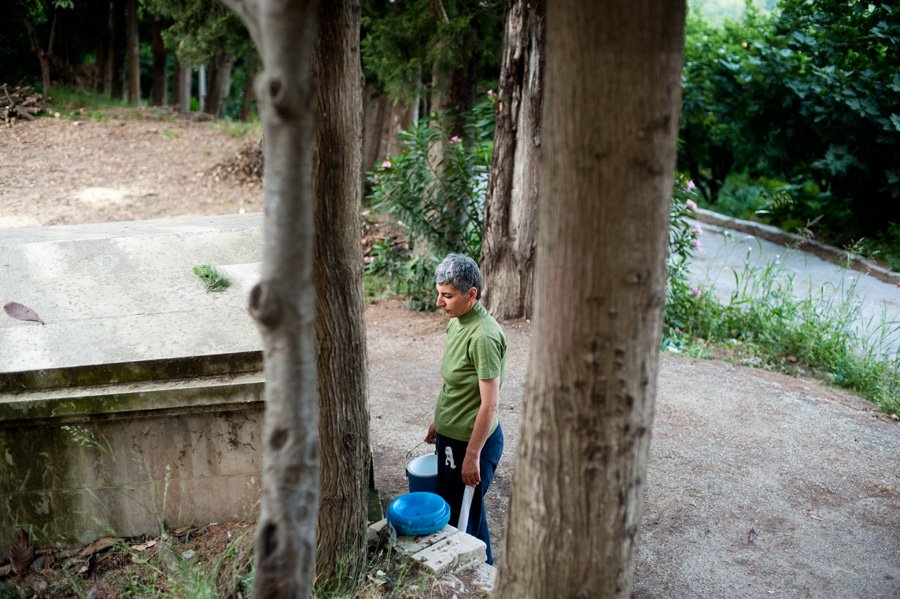 Sima fills a bucket with water from the community tap.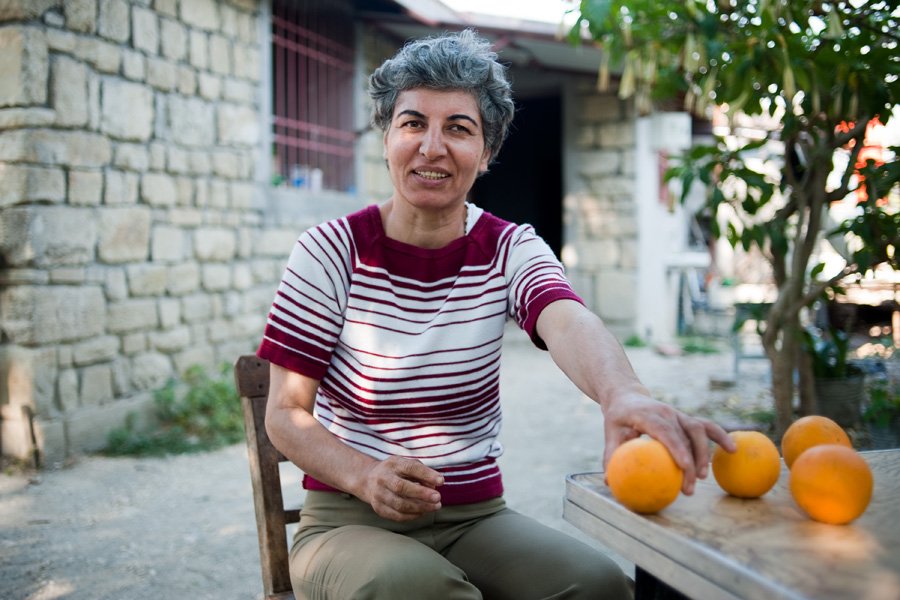 Sima offers an orange.
"I like to cook," Sima Babek, 45, says.
She crosses her legs, the right over the left, and starts to jiggle her foot. She looks around the muddy yard before continuing.
"I make pasta and potatoes and green beans. My favorite is green beans. It's a summer food."
Sima stops to scratch at an itch on her arm.
"I put oil in the pan, and then I put in onions, and then I add green beans, and then I put in the tomatoes, and then I add water, and then I add some tomato paste, and then I sprinkle in salt."
At the end of her mechanical recitation, Sima takes a deep breath. She uncrosses her legs and puts both sandaled feet on the ground. Her toes, peeking out from underneath wide plastic straps, are covered in soft black hair, a side effect of her medication.
"Do know that I'm a little sick," she says.
As a girl, Sima was diagnosed with meningitis. The disease affected her mental development, and she is a child in a woman's body, high-functioning but simple. She takes medicine for epilepsy, one pill per day, each housed in her medicine box. She proudly shows off several boxes, most of them empty, and excitedly remarks that their yellow tint is the same color as a T-shirt.
Sima relates to her world mainly through color. She loves to dress herself, and she picks her clothes according to their color and texture. On this hot summer day, she wears a pair of khaki pants and a ribbed gray V-neck shirt. She goes shopping for clothes in Samandaǧ, a larger town just a few miles from Vakıflı.
"On Mondays [my dad and I] go to the bazaar," she says.
Her father, Mesrop, a man who's spent his life working, walks slowly into the yard. His back is so hunched that he walks as if doubled over, but his spirit is gentle and strong.
"Back in the day, I didn't know the meaning of tired," he says softly and with a sweet smile.
Sima turns to look at him, and her affection for him is clear in the sudden calmness of her body.
"I love my dad," she says, turning back. "I take care of him."
And she does, cooking meals, cleaning the house, lecturing her younger sister, Hasmik, 42, on what to do. But it is in the orchards that she works with him side by side, helping to load wooden crates of ripe oranges and apricots. They sell the fruit at the bazaar, but the money they earn just barely covers their expenses. If they could stop working, Mesrop says, they would. But money is tight, and it hasn't been the best season for fruit.
Still, the small family seems happy and close. Sima is content being a caretaker, though her generous spirit doesn't always extend to her sister's two furry dogs or the Babek's next door neighbor, Lora Kartun.
Lora is bossy and always asking for favors, Sima says.
"Can you get me water, bring me a cup, pick me some flowers," she imitates the elderly Lora.
When Sima doesn't want to help out, she hides in the safety of her squat stone home. She closes the doors and keeps away from the windows, hoping that will keep her needy neighbor from peering in. Sometimes it works, sometimes it doesn't.
Sima says, however, that she loves everyone in her village. She can usually be found on a warm summer evening sitting in her yard and listening to her friends and neighbors chat.
When asked if she also loves her village, Sima raises her voice to enthusiastically declare, "Yes! Our home!"
Sima Babek (not in the picture) lives with her father, Mesrop (left), her younger sister, Hasmik (right), and Hasmik's pets, including two dogs, Pamuk and Dino, several pigeons, a cow and a donkey. "I don't like the dogs. They untie ropes and scratch things," Sima said.