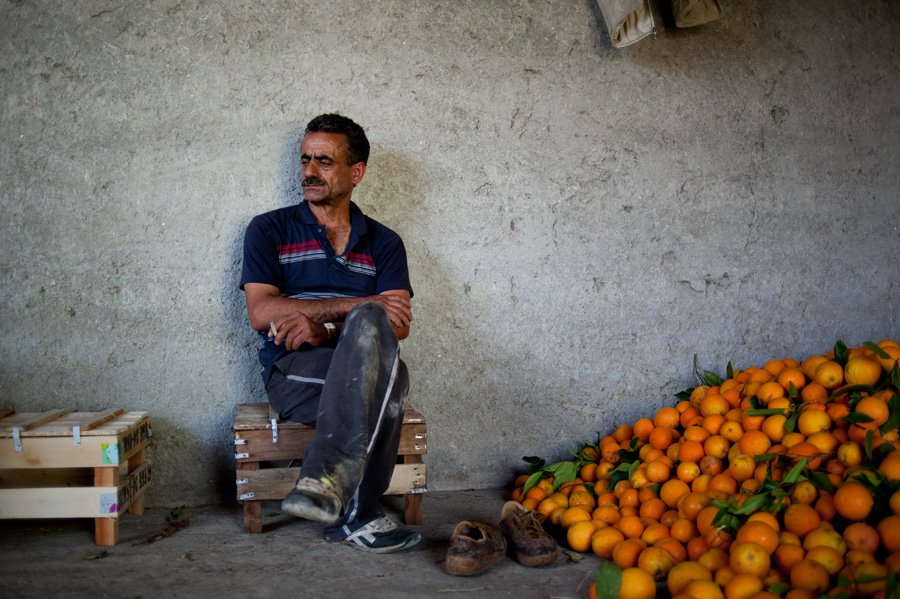 Ohannes Kartun takes a break from packing oranges into crates in his loading area.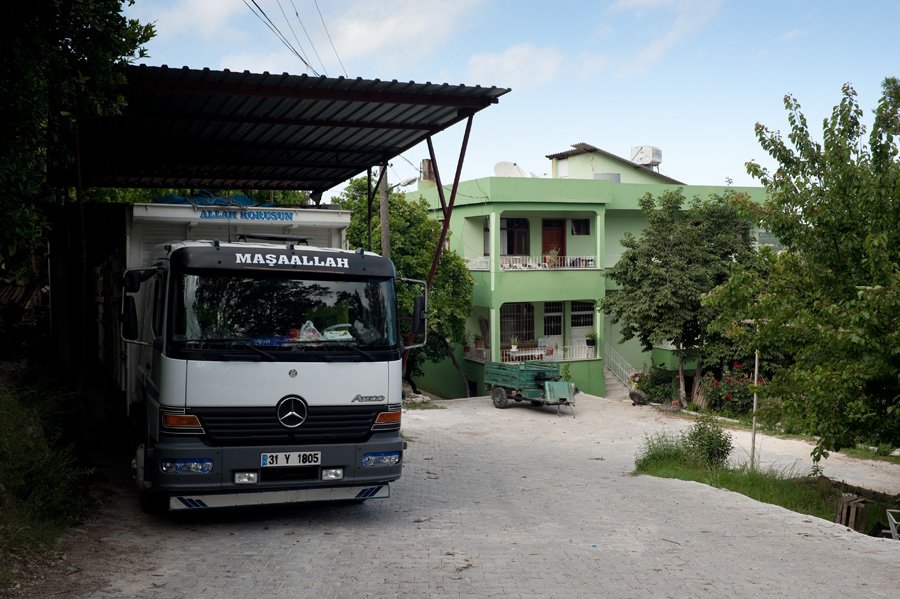 Ohannes's truck and the family home he shares with his brother, Berç. Even though Ohannes is Christian, his truck is emblazoned with the Turkish Muslim phrases "Maşallah," or "God has willed it," and "Allah korusun," or "May God protect."
Ohannes watches his son, Sarkis, blow out the candles of his birthday cake.
"I chose this miserable life of truck driving," Ohannes, 47, begins.
He reclines on his balcony, legs tucked up underneath him. A glowing cigarette dangles from his right hand, and he takes periodic drags. The nicotine calms him down; he visibly relaxes when exhaling a stream of gray smoke into the twilight sky.
His wife, Talin, and two daughters, Eliza and Silva, are in the kitchen preparing a cake for Ohannes's son, Sarkis. Today is Sarkis's 12th birthday. The sound of women's laughter flows out of the open door and mingles with the drifting smoke of the cigarette. Ohannes sighs contentedly. This is the first day in a while where he has not been strapped in behind a steering wheel.
"I started driving in 1989," he says.
He never intended to be a truck driver, but circumstances forced him into the profession. As a young man, his passion had been engines, and during his 18 months in the military, he worked as a mechanic. He was so skilled, in fact, that he was shipped from base to base, fiddling with and fixing engines.
"I was quite knowledgeable and good at my work. People would ask for me."
When he was discharged, he returned to the garage in İskenderun where he had apprenticed and worked. The owner, he says, offered to sell him the garage if he could find funding. Ohannes's uncles stepped in, promising to buy him the business. Just as negotiations were under way, however, the uncles pulled out, leaving Ohannes bitter and frustrated.
"I was extremely upset," he says, his face drawing down. He flicks his cigarette ash into a makeshift ashtray and sits quietly, reflecting on his regrets.
"The owner said I could just run the shop," he finally says. "But I was too disappointed. So I quit."
It was then that he turned to truck driving. He was newly engaged to Talin and trying to build a house. Expectations and pressure were beginning to weigh on his shoulders, so Ohannes took on a partner, bought a truck and set out to earn money.
He drove to Bursa, a large city south of Istanbul, three days a week. It took 16 hours, he says, to drive the loaded truck to the city, and 12 hours to drive the unloaded truck back.
"I used to slap myself and splash cold water on my face to stay awake," he says with a laugh.
Then he holds out his left arm and points out the perfectly rounded scars on the inside of his wrist, scars from burning himself with the lit end of his cigarette. As a last resort method, the self-inflicted injuries kept his eyes open on the road.
"It's all about [work, all about] sweat on the forehead," he says with dismissive shrug.
Almost 17 years later, he still works as hard, still drives several days of the week and rarely sees his family.
"Poverty drove us to this life."
On this night, however, he is home. His eyelids droop with exhaustion as the birthday celebration gets under way, and he can't muster the energy to move from the couch. But when his wife comes in with a brightly lit birthday cake, and his son stands close to him, Ohannes sits up. His rich baritone mingles with the other voices in "Happy Birthday."
"Our life is an adventure," he says, reaching out to rub a hand on his son's shoulder.
Ohannes stretches his back while playing backgammon with Sıtkı Yıldırım.