Mehmet Yemişen hunts in the Hırbani area.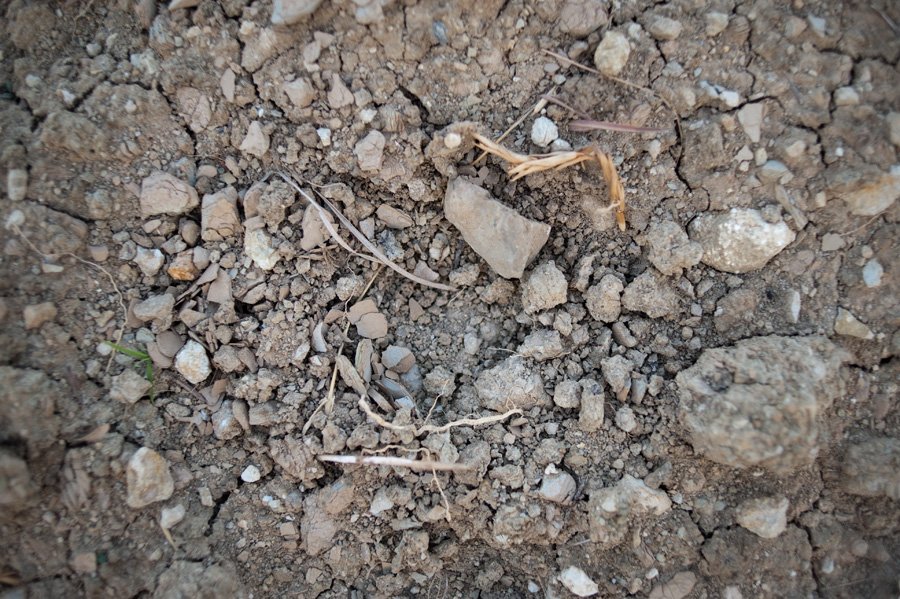 Hoofprint of a wild boar. It is difficult for an untrained eye to spot it.
Mehmet poses in front of his parents' house in the Yezur neighborhood of Vakıflı.
The Yezur neighborhood, where the Yemişen family lives, seems bereft of people. Abandoned. There are buzzing flies and mosquitos, overgrown shrubs and aged cars, but few villagers and children. It is at least a half-mile from Vakıflı, and the winding gravel-lined road that leads to it is made narrower by dense bushes and trees.
"Not many people come here," Mehmet Yemişen, 43, says. "The city center is in Vakıflı…and there are older people [in the village] who would have to walk here."
Yezur used to be entirely Armenian, Mehmet says, but now it has only 6 households, all of them Turkish. Mehmet is a Muslim Turk, and he supports MHP, the Turkish nationalist party, but he was born and raised in Vakıflı. His childhood friends are Armenian, and he can speak the village language.
"You wouldn't be able to tell that I don't speak Armenian as my mother tongue."
His life has been a mixture of Turkish and Armenian culture, language and tradition. Each milestone, from his circumcision to his wedding, his boyhood to his adulthood, has been marked by significant Armenian relationships.
During his circumcision ceremony, a Muslim Turkish rite of passage that marks the end of childhood, he was sponsored by an Armenian "kirve," a godfather-like figure.
"[The kirve] is very important. He's like half of a dad. He carried me during the ceremony."
Mehmet's kirve was Narik Canoğlu, an Armenian Orthodox Christian. He supported Mehmet emotionally and gave him a parcel of money known as "şaboş." Narik died later in an earthquake in Armenia, but Mehmet remembers him still as a friend and as a good man.
With a family of his own now – a boy, a girl and a baby on the way – Mehmet struggles to make ends meet. As he talks, his father, Yusuf, dressed in traditional low-slung black pants and a red-and-white baseball hat, pulls up a chair. Both men's clothes are grass-streaked, and they have on matching black rubber shoes caked in dirt and manure. It is a hard life, earning a living in Yezur, but they try to make it work. And though money is hard to come by, friends are not.
Mehmet's closest friends, the ones who know and understand him, are those that he grew up with in the village. These days, they go hunting every week and always before the Assumption of Saint Mary, an Armenian Orthodox holiday.
"We're a proud group of sharp shooters," he says, his chest puffing out and his eyes brightening.
They hunt a variety of animals, but they wait for wild boar, an elusive – and delicious – target.
"There are two types of shooting: You can wait at night for game, or you can go after [the boar] with dogs in the day," Mehmet says. "I prefer the daylight; it's more successful."
At the end of each hunting session, Mehmet and his hunting buddies settle on the outskirts of the woods to start a fire to skin and roast the wild boar. Despite Muslim dietary restrictions, he eats the brown, tender meat. The hunters split the remainder evenly between them to take home.
As Mehmet talks proudly of his hunting achievements and his love for the sport, Yusuf shakes his head disapprovingly and his bushy white mustache twitches.
Mehmet looks over at his father and laughs.
"He doesn't eat wild boar," Mehmet explains.  "If he were to criticize me [for eating it], I'd eat even more."
Both men chuckle at each other and then hitch up their pants to stand from their chairs. It is time to go back to work, to the fields and the orchards. They will sweat through the heat, go home to their families and wake up to do it all again the next day. And Mehmet will go hunting with his friends.
As they walk up the empty street, a breeze teases the branches of nearby trees, and the Yezur neighborhood waves goodbye.
Mehmet talks with his wife, Şükran, about going to a wedding. Şükran wanted to attend the event as a couple and was frustrated at her husband's refusal to go.