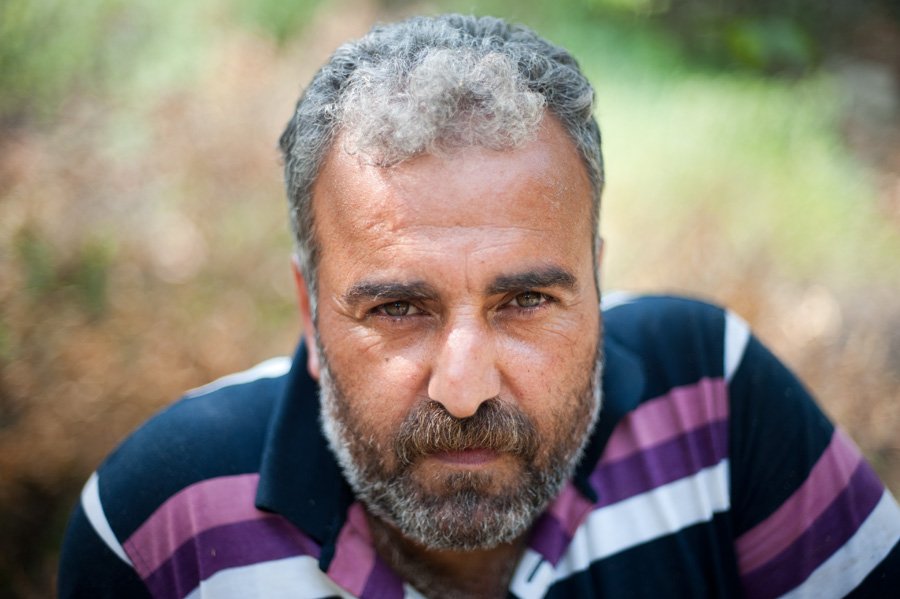 Garabet Emlikyan, 45.
Garabet holds a picture from his military service. He is second from the left in the photo.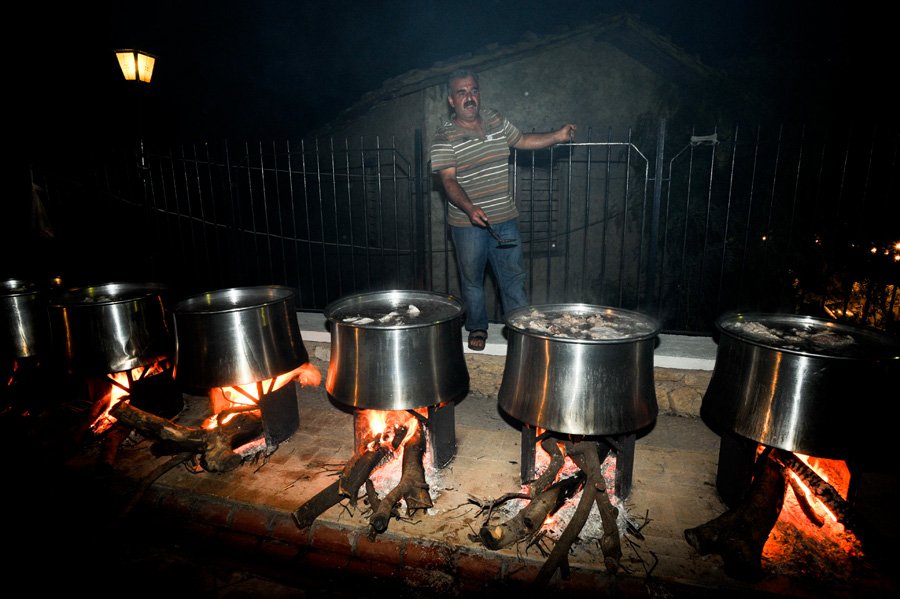 Garabet takes a break from stirring harisa during the Feast of the Assumption of St. Mary and the Blessing of the Grapes.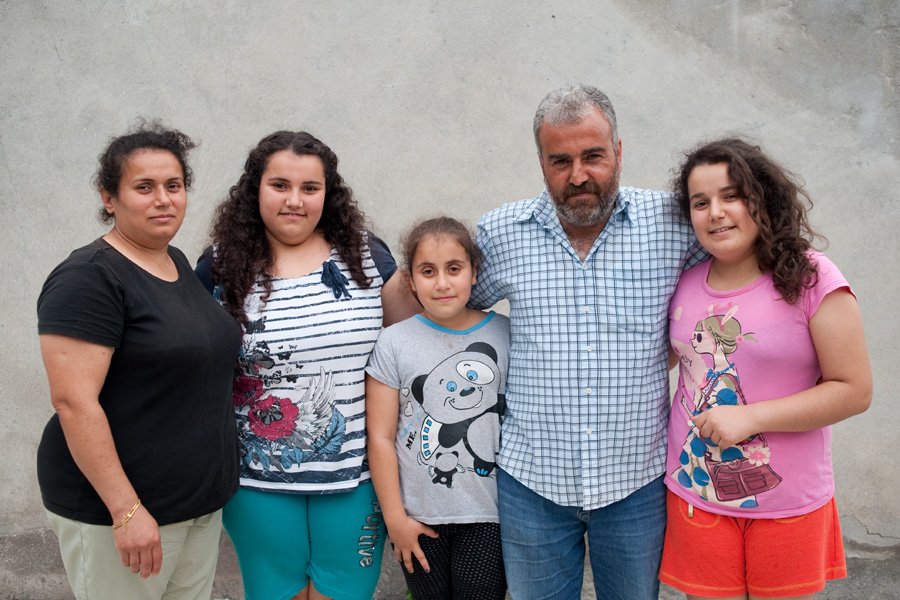 Garabet poses with his wife, Meryem, and his three daughters, Hosik (second from left), Dilara (middle) and Tanya (far right).
Garabet Emlikyan, 45, has spent his life surrounded by women. He has seven sisters, a wife and three daughters.
Even as he sits at one of the wooden tables inside the coffee house, his oldest daughter, Hosik, 15, hovers at his elbow. Twice she brings him tea, setting the hourglass-shaped teacup and saucer in front of him.
As he sips the steaming brew, Garabet explains that being the only male has been a burden.
"It's a very bad thing," he says, his thick eyebrows bunching in seriousness. "I have to keep everyone on my shoulders."
With that weight of responsibility resting on him, Garabet works to make sure everyone is well taken care of and happy. He owns a 20-acre orchard, and he hires outside workers to help him harvest his crops. His own family doesn't join him in the fields, he says, though they will bring him glasses of water, juice and tea.
He has, it seems, sacrificed his freedom and his dreams for his family's security.
"I always wanted to be a truck driver," he says. "I always wanted to be on the road. But as the only male, I couldn't leave my family here."
He looks down at his now empty glass as he remarks on what could have been. He wipes a hand across his sweaty brow, and his hazel eyes seem dull with fatigue. But when Hosik comes over, prepared to fill his glass for the third time, he brightens and shoos her away so she can rest.
"She's named after my mother," Garabet says with a nod in Hosik's direction. "Sometimes she calls me backward thinking, but I respect her beliefs, and she respects mine."
Hosik grins at her father from the kitchen doorway.
His youngest daughter, Dilara, isn't quite as level-headed as Hosik and Tanya, Garabet's middle child. Dilara, well-versed in human rights, protests Garabet's disciplinary tactics by proclaiming that she "wants to use [her] child rights." He chuckles at his baby girl's sass.
Garabet credits his time in the military for allowing him to develop the self-discipline needed to care for his sisters, his daughters, and his wife, Meryem, a Christian Arab from Antakya. He served for 18 months in the late 1980s. In his unit, which guarded Kurdish villages from separatist militants known as the P.K.K., he was responsible for manning a heavy machine gun.
With his heavily muscled arms and a dark blue tattoo of a sword on his left bicep, Garabet is the picture of a hardened soldier-cum-civilian.
"You learn how to struggle and how to deal with life," he says.
And for an Armenian living in Turkey, easily identifiable by his last name, Garabet says the military acted as an equalizer, allowing him a little anonymity.
"We eat together, we sleep together in the same place, we wear the same boots and the same uniform. You can only tell by the brand of cigarettes who's rich or not."
For the first – and only – time in his life, Garabet was relieved of family duty. Now, almost 25 years later, the soldier seems to still live within the man, in the strong set of his shoulders and in the determination in his eyes. Garabet, though surrounded by ladies, is a hard-working, hard-living, hard-loving man.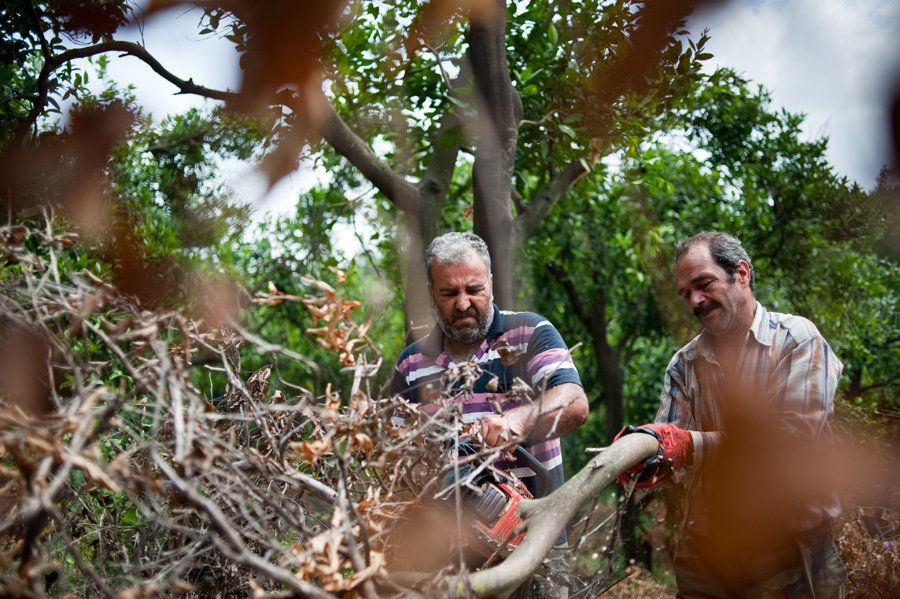 Garabet chops wood in the village orchard with his fellow worker, Coşkun Biçer, a Muslim Turk from Hıdırbey.